Su.pr Plugin for Movable Type
The Su.pr plugin for Movable Type and Melody makes it easier than ever to share content you create with friends and family. Now, right from your edit screen you can post a status update directly to Twitter and/or Facebook. This makes status messaging a core part of your publishing workflow and not an after thought - and thus will make you more successful and your content more viral.
What's more, through the Su.pr service you can easily host your own custom short URL that is unique to your own brand and identity!

Features

Download
Installation
This plugin is installed in a manner similar to every other Movable Type plugin.
Setup
To setup the Su.pr plugin after it has been installed, navigate to "Plugins" under the Tools menu. Select Supr from the list of plugins and click "Settings." Then select your options and at a minimum enter your Su.pr API Key and username. Hint text underneath the other options should help you know what to do.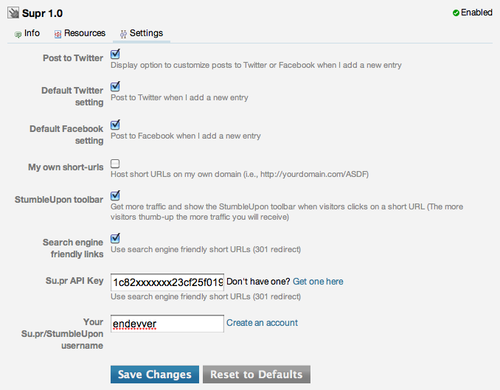 Custom Short URLs
If you want to host your very own custom short URLs, please consult Su.pr's official documentation.
Credits
This plugin by Endevver was created in close partnership with MT Hacks, another premiere Movable Type consulting company.
Support
Blog
July 25, 2011 2:13 PM
Recently a number of people in the Movable Type community asked questions relating to Google Sitemaps. Endevver was quick to respond and assembled a number of tutorials in our support knowledge base to address the questions they had and share...