ChicagoNow, Chicago Tribune Interactive
"They helped us take an idea, make it better and bring it to life."
The Tribune Company approached Endevver to help them build the next generation, community oriented, hyper-local online news source for the greater Chicago Area. We teamed up with Jason Santa Maria of
Mighty Design
and built for them what has quickly become one the Tribune Company's most successful online ventures of all time.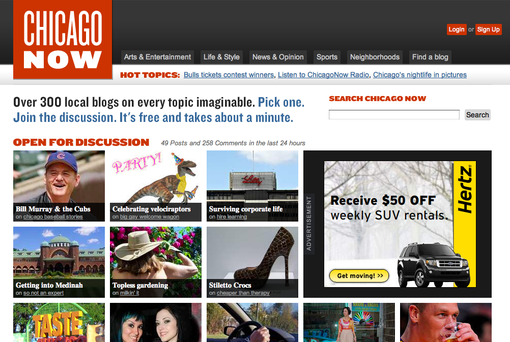 Through this project Endevver has produced a significant number of softwarer components, which the Tribune has been kind enough to contribute back to the Movable Type community as open source plugins. They are:
Auto Preferences
Config Assistant
Export User Data
Enhancements to Facebook Commenters
Max Image Width
Module Cache Manager
Two Dimensional Pull-Down Custom Field
Testimonial
"We felt extremely fortunate to have found Endevver as our developer for ChicagoNow. To call them the developers of the project doesn't really do justice to their contributions before the launch of ChicagoNow and moving forward. They helped us take an idea, make it better and bring it to life."
-- Bill Adee, Vice President, Digital, Tribune Company
Blog
July 25, 2011 2:13 PM
Recently a number of people in the Movable Type community asked questions relating to Google Sitemaps. Endevver was quick to respond and assembled a number of tutorials in our support knowledge base to address the questions they had and share...